What Our Clients Are Saying!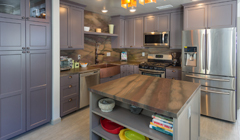 Get the kitchen remodel you've envisioned 33% faster without budget surprises! For over 10 years every kitchen remodeling project our custom kitchen team at Spectrum Kitchen Remodeling has performed was within the estimated budget of our customers. We know a remodel is stressful and inconvenient for you, and we want to stick to the schedule we've promised. That's why we keep a dedicated project manager who works with you onsite. When unexpected issues occur, your personal project manager resolves it quickly and shuffles the timetable so that the schedule continues to use every day to its fullest. Our recent customer, Elizabeth S. summed our efforts up well:
"The schedule and costs were clearly spelled out"
Here's what else she had to say about the remodel we did:
"Ray Santiago of Spectrum Kitchen Remodeling created the kitchen of my dreams! The beautiful cabinetry, counter tops, farmhouse style sink and built-in wine cooler are all beautiful! Most importantly, Ray and his team were a pleasure to work with – organized, professional, patient, and conscientious. Schedule and costs were clearly spelled out. Any changes were communicated in the most timely manner. My many many MANY detailed questions were patiently answered. AND the team cleaned up after themselves on a daily basis!"
But besides sticking to schedule, we also want to make sure your kitchen is beautiful and functional. Here are a few of our other client testimonials…
"Everyone that steps into my kitchen oohs and aahs."
"Spectrum remodeled my kitchen last fall. Ray and his entire team are absolute gems. He really cares about his customer's satisfaction and goes above and beyond. The quality of the work is top notch and everyone on the team is professional and responsive."
"Everyone that steps into my kitchen oohs and aahs and wants to know who did the work. And even though I gave him a very compressed time frame, he remained true to his word; my kitchen was ready for Thanksgiving. Could not be happier!"
Why trust us with your kitchen remodel?
We are Licensed General Contractors. Spectrum Kitchen Remodeling owns a California "B" General Contractor's license.
We offer a Lifetime Guarantee on all of the hardware, drawer boxes, doors and casework for the custom cabinets we provide.
We offer a Complete Satisfaction Guarantee: we won't consider your kitchen remodel as completed unless you're absolutely thrilled with it.
Best of Houzz 2015 service.
What will we do for you exactly? We will:
Stay within your desired budget.
Make sure all the work is up to code.
Use only quality materials.
Provide you with custom cabinets better than any of the high priced stock and semi-custom cabinets.
Stick to the promised timeframe. Our typical kitchen remodel spans 5-6 weeks which is at least 33% faster than most other contractors.
Help you work towards the look you are after until you see it all coming together.
Provide you with a dedicated onsite project manager to create a schedule, plan and coordinate all jobs.
Quickly remedy any unexpected problem and shuffle the schedule as needed.
Who said you couldn't find a reliable, honest, organized, and responsive contractor that is conscientious about your budget? Spectrum Kitchen Remodeling strives to provide all of this. Our happy customers can confirm! Give us a call today to get started with a free estimate!